A smarter way to travel
A premium passport carrier with innovative built-in tech, function, and organization to streamline your journey.

Genius!
Skyborne continues to surprise me. The 4.0 edition of the iTravel is by far my fav. Wireless charging works flawlessly now!
Kristin L.
Phenomenal quality
I can compare Skyborne's leathers to my Tumi wallet, which says a lot considering I paid a fraction of the price.
Phil.
Design design design!
Its super slim, yet fits everything I would normally have stuffed in my pockets. Even a place for my foreign cash & coins. I have used wallets, and passport wallets from Bellroy, Herschel, and Fossil and none compare.
Laura H.
A+ materials
Took it on my latest trip and WOW! Everyone kept asking where I got it from lol You can smell the fine leathers, and feel the attention to detail in the zips and stitching. This is a work of art and works so well. Thank you
Samantha Ryan.
Excellent construction
My wife and I bought a pair, and we both loved using it. I was surprised at how well the charging pad worked with my iPhone device, and was THRILLED to see it can be re-charged via USB-C.
Rick K.
Pack it & travel with power.
The iTravel Folio 4.0 features built-in USB-C rechargeable power.
Toss the tangled cables away. A 7000mah hyper-slim power bank (Enough for up to 2-3 full charges!) is embedded and connected with an internally Qi charging pad. Meaning keeping your airpods, and phones fully charged while on the go has never been easier.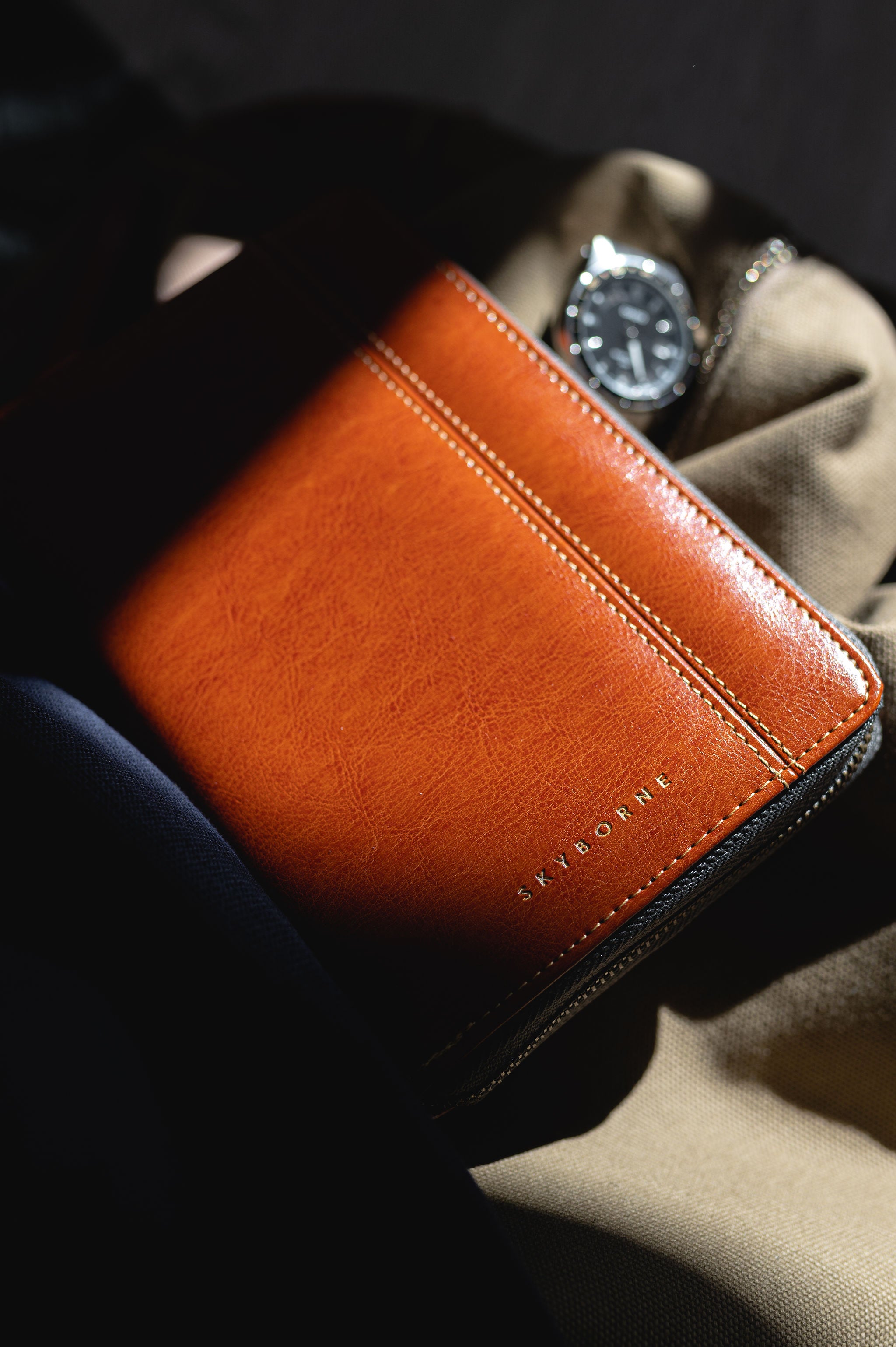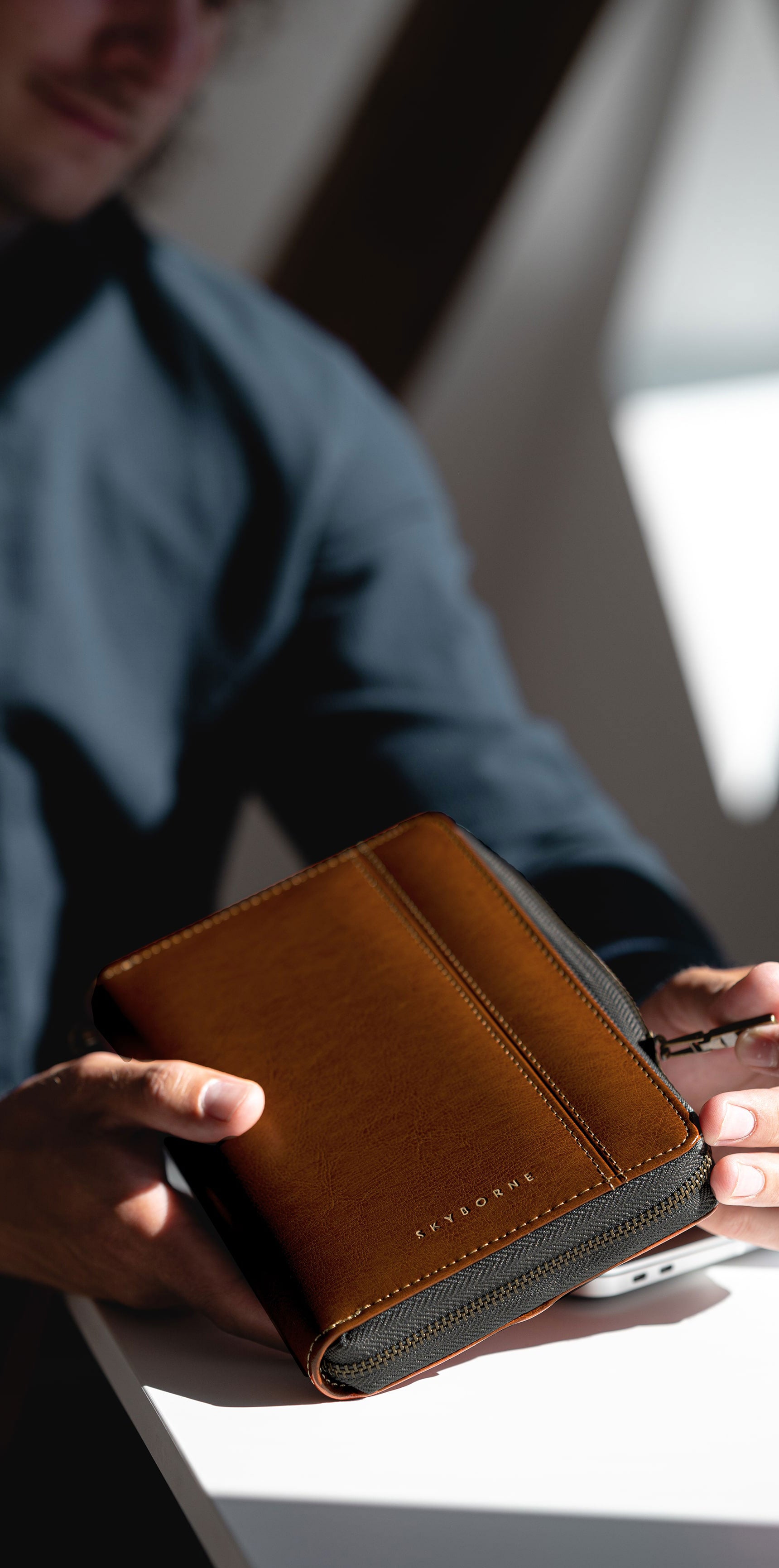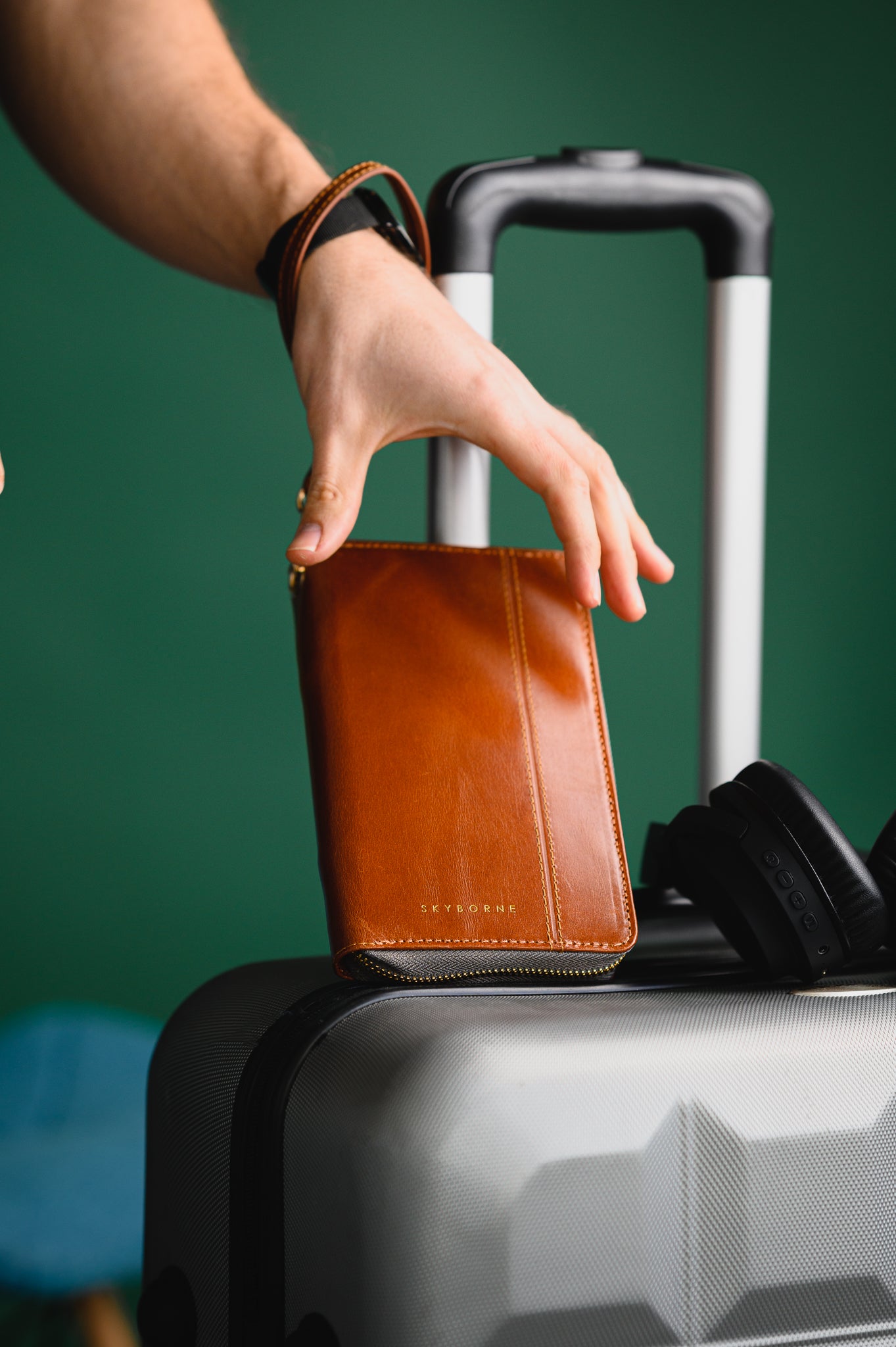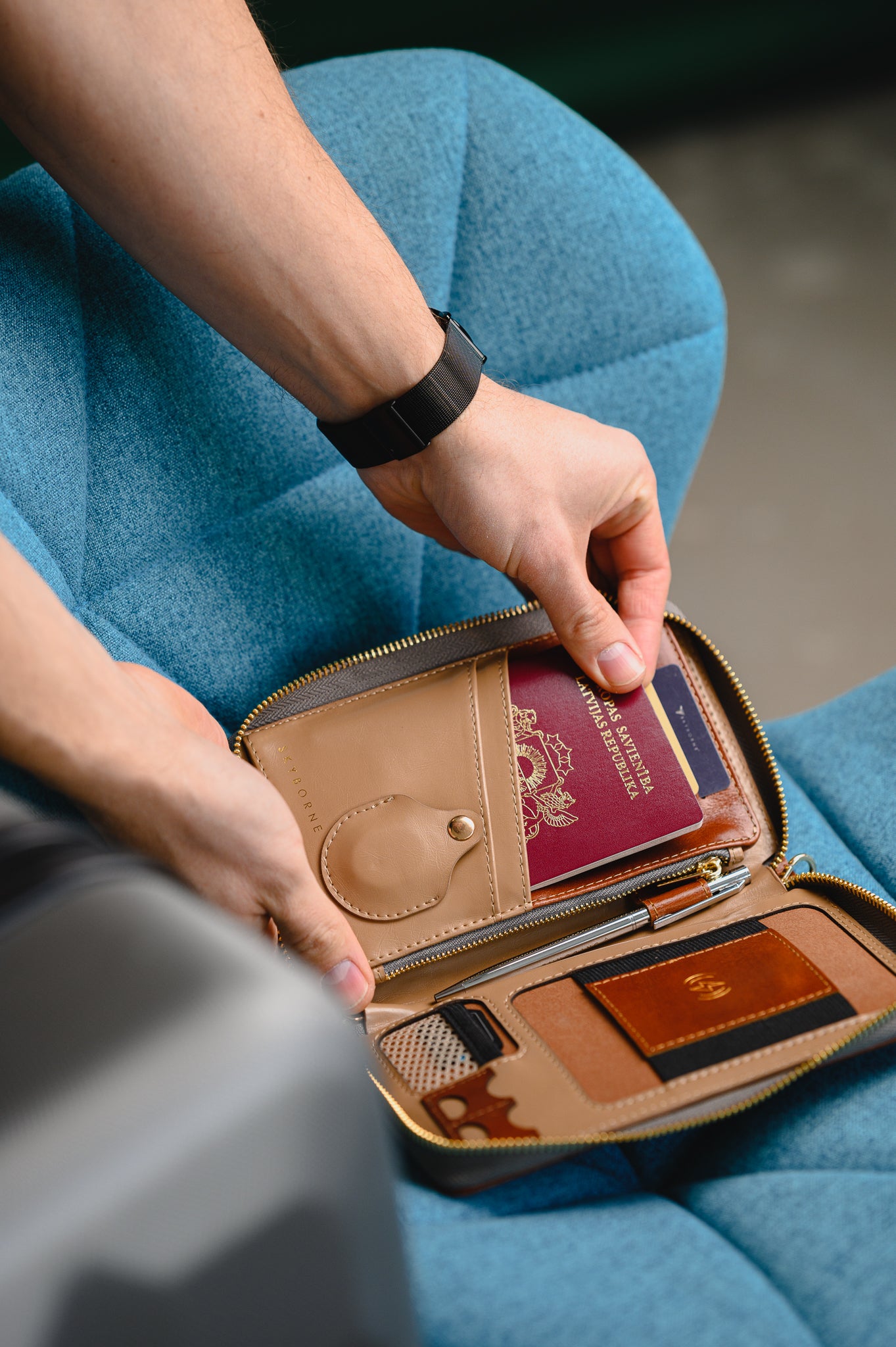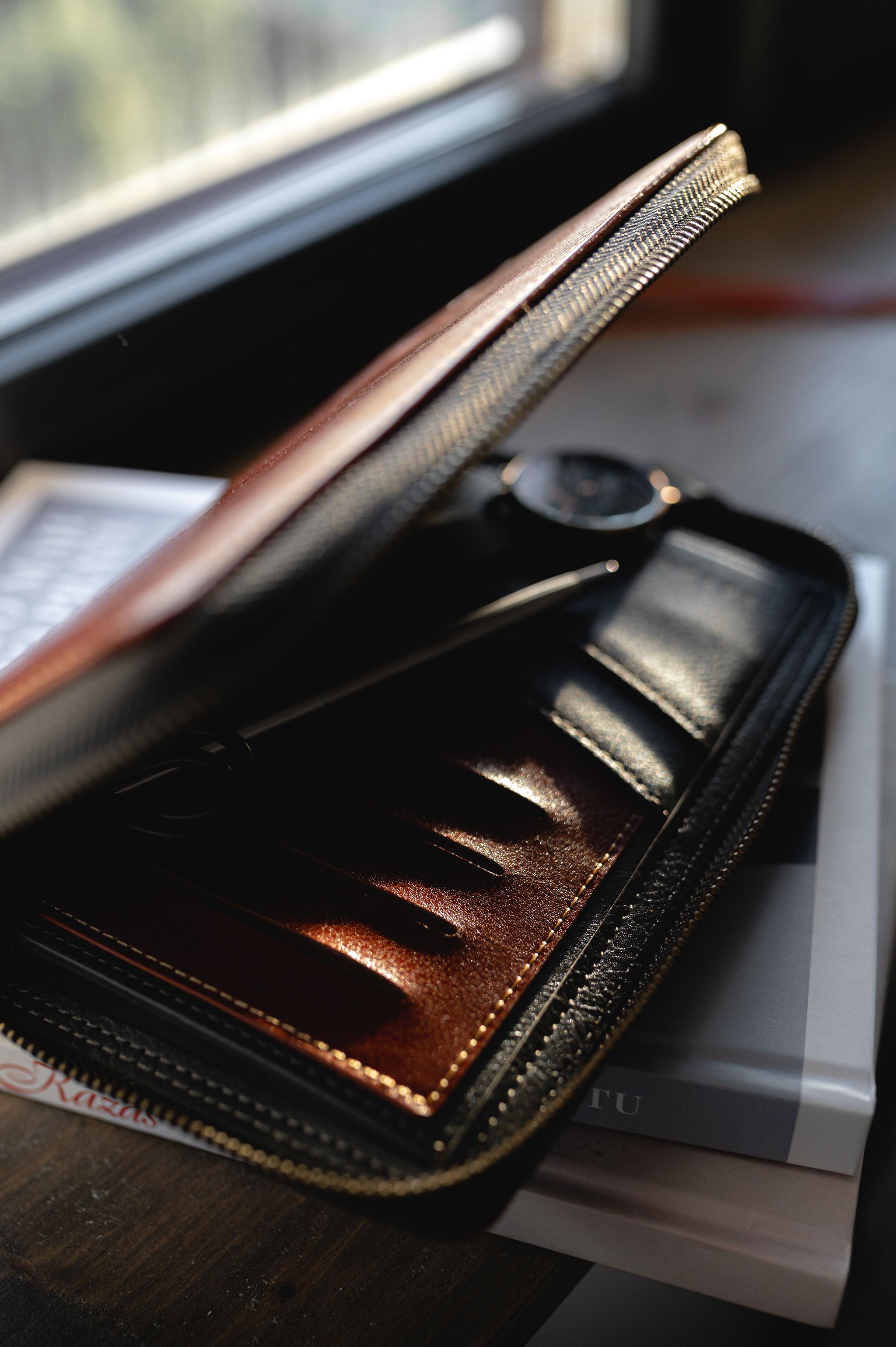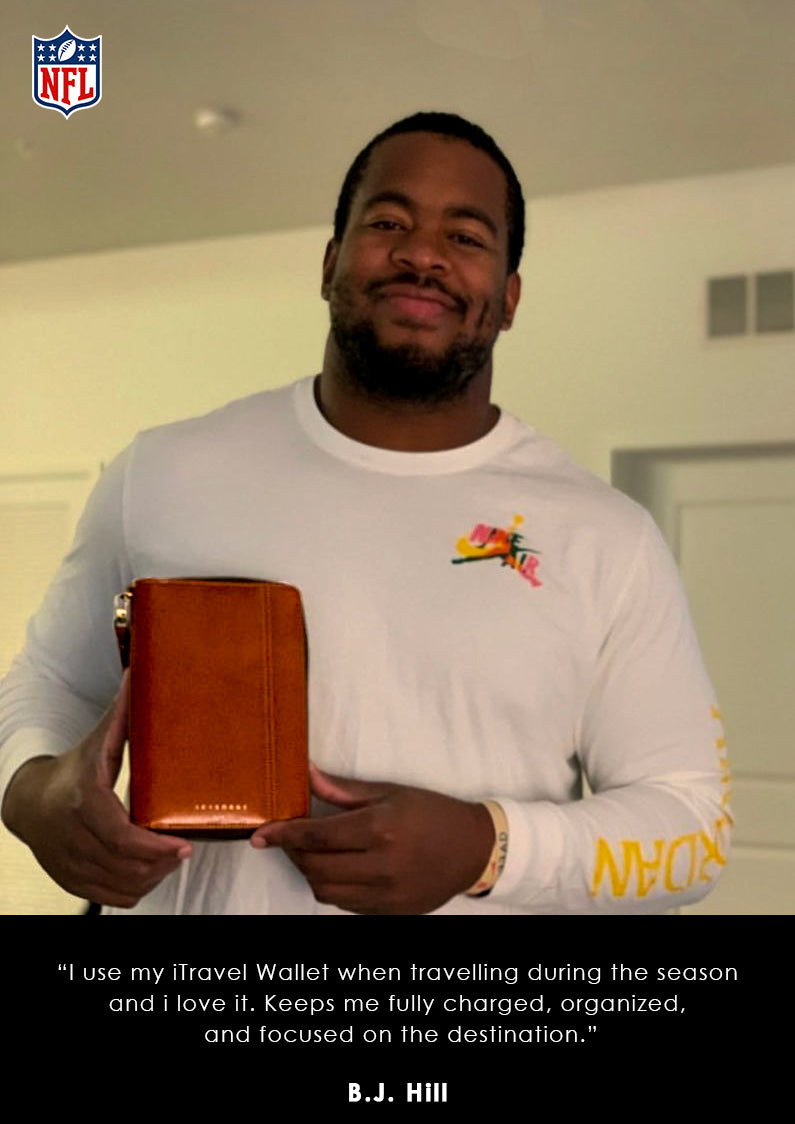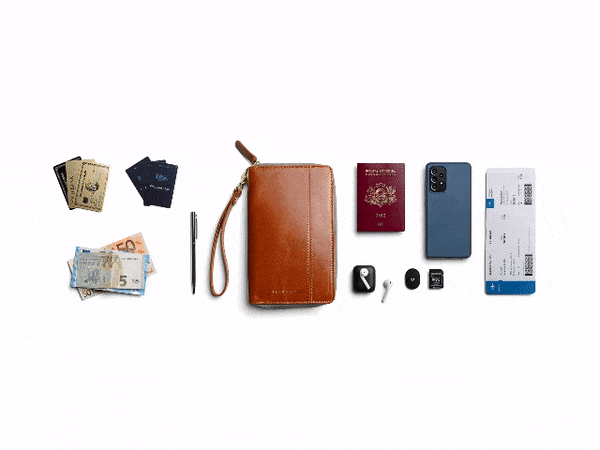 How It Works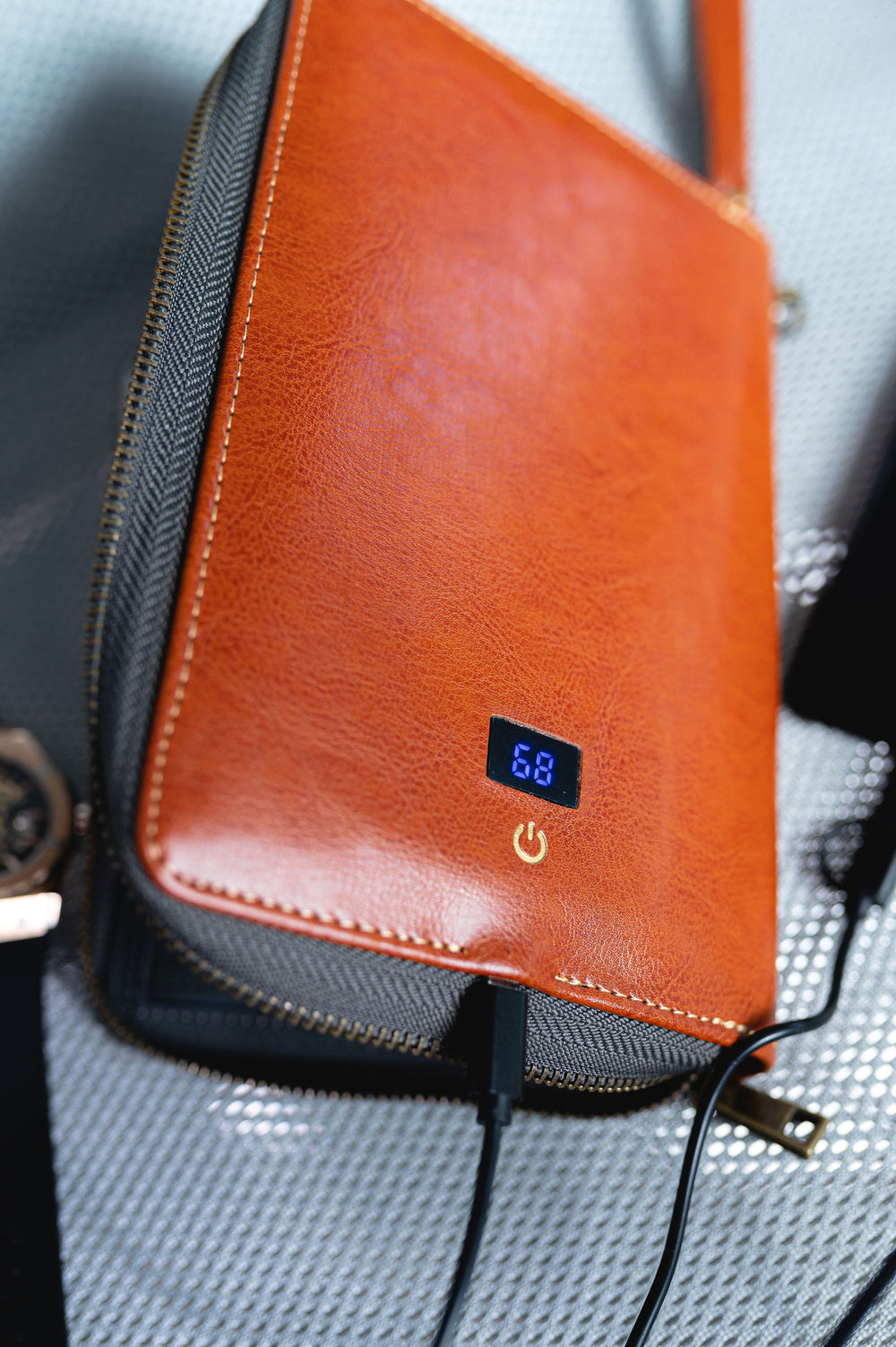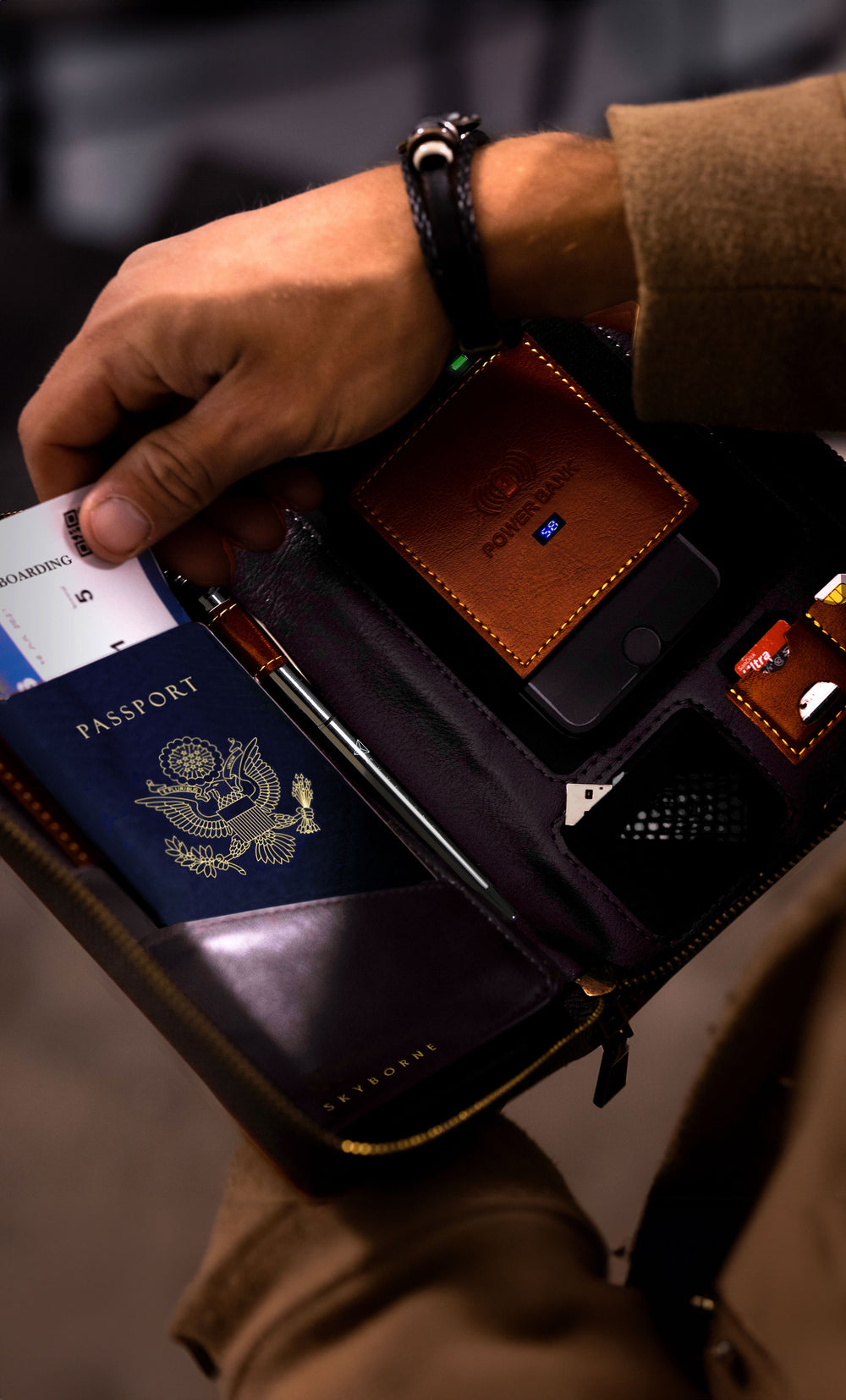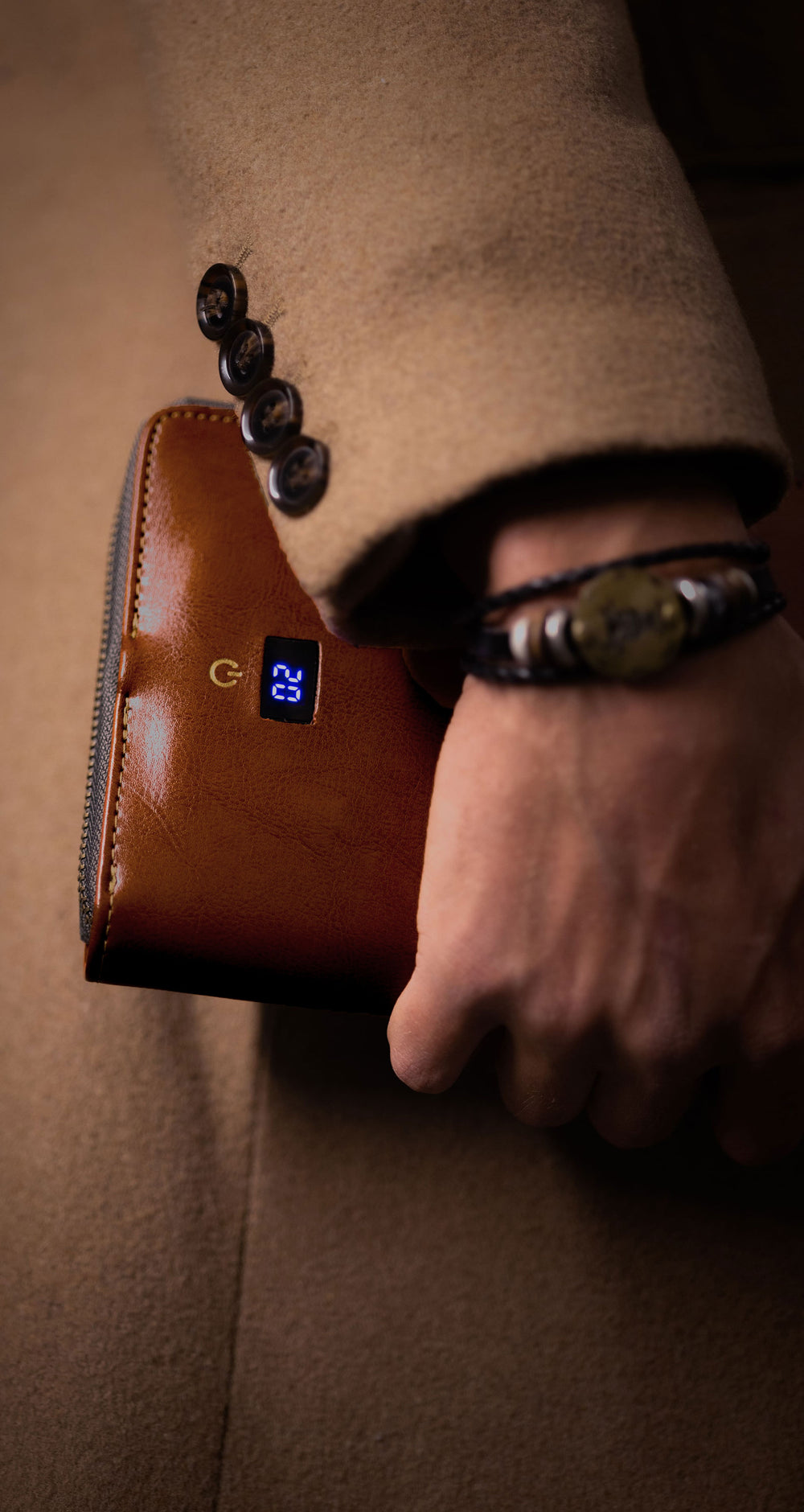 3
Fly!
Grab it and move on to focus on your destination.
Ultimate function. Optimized organization.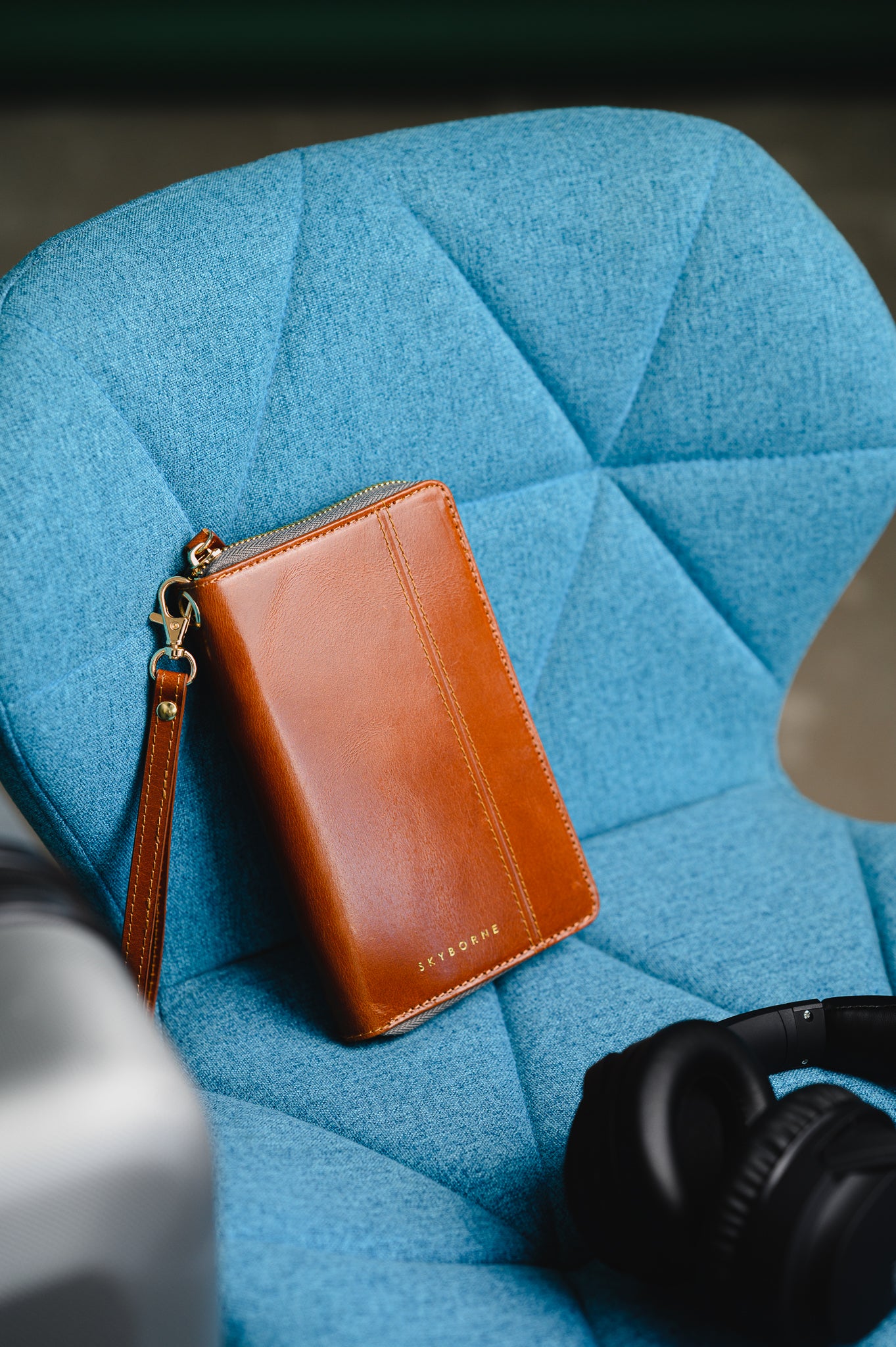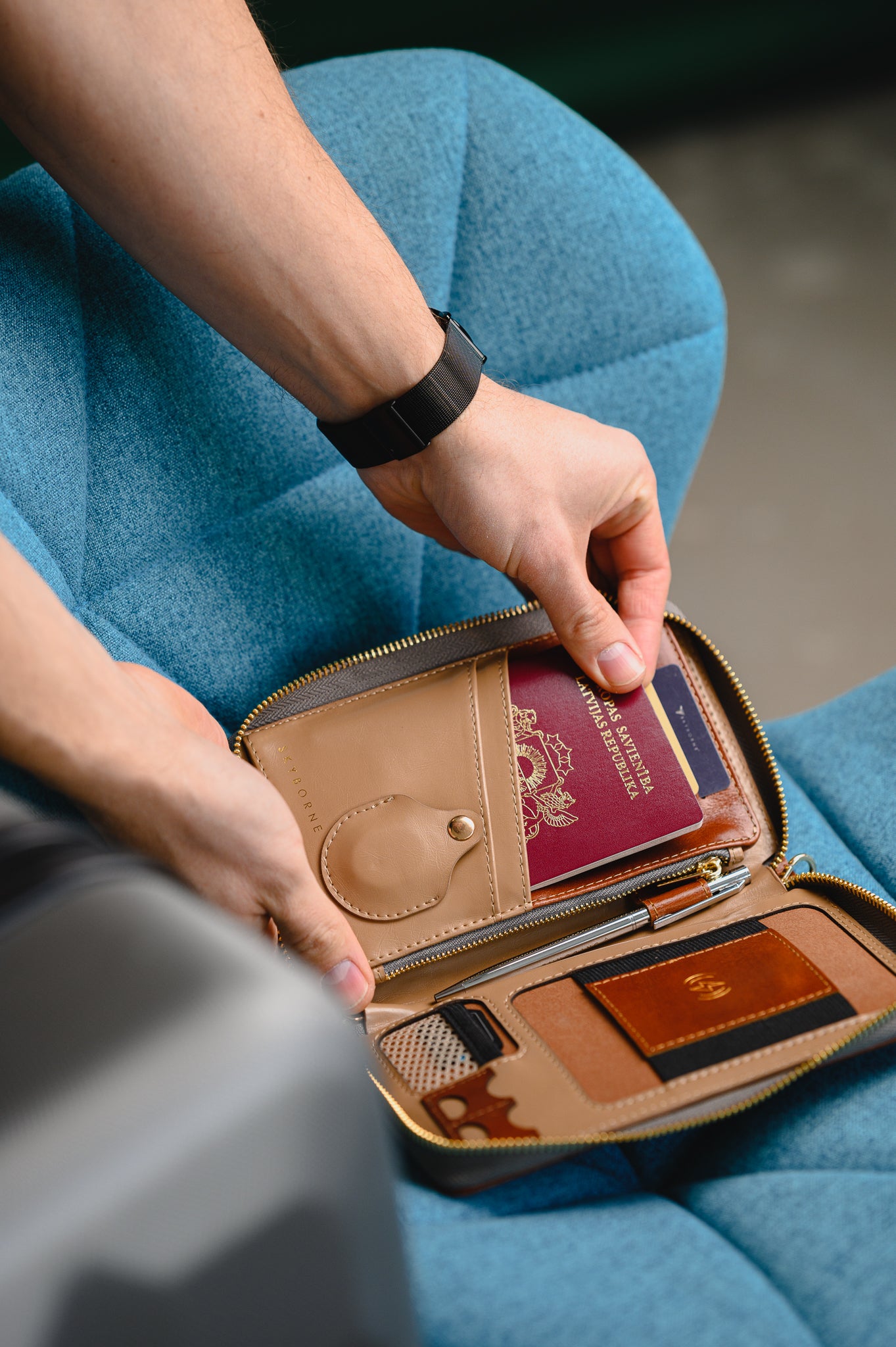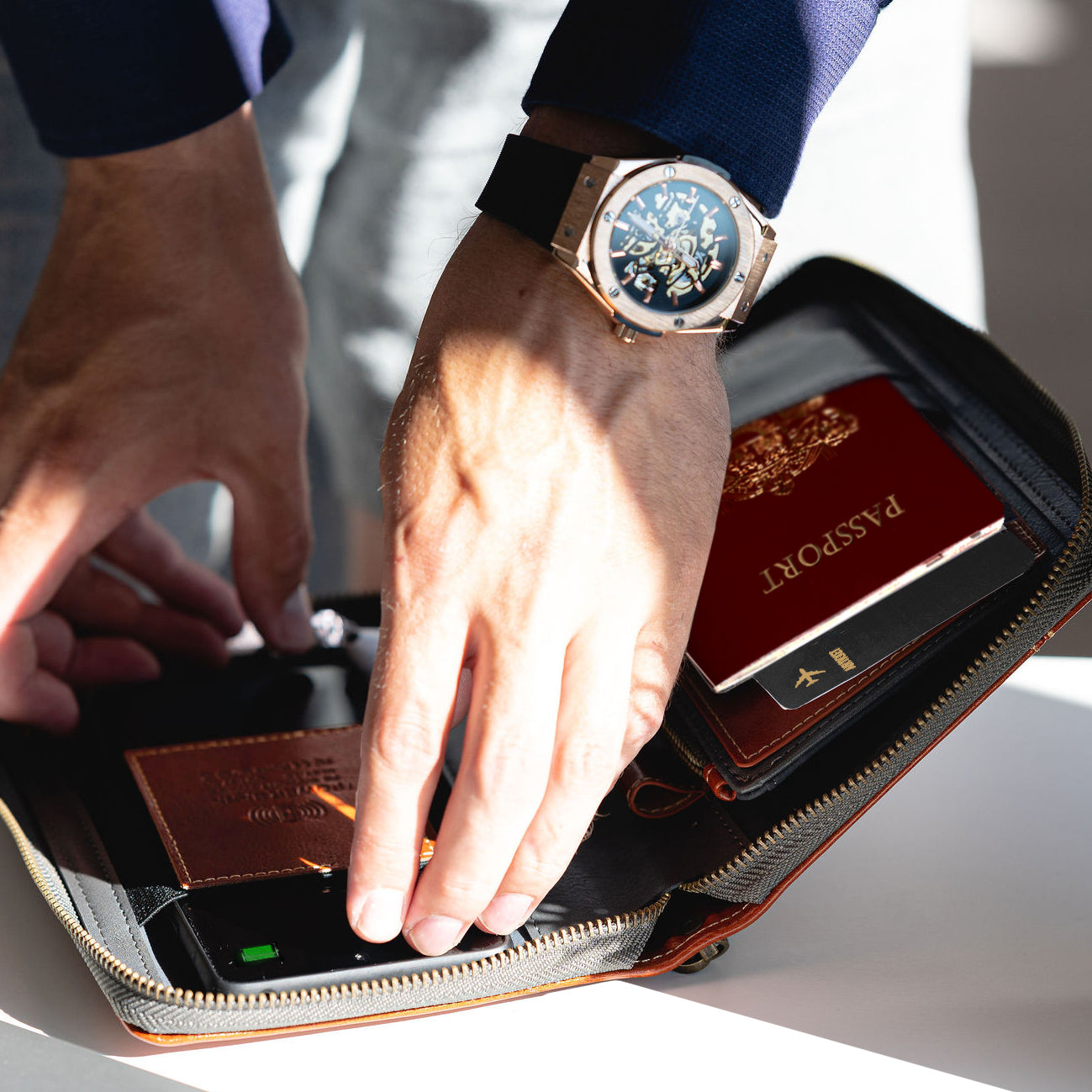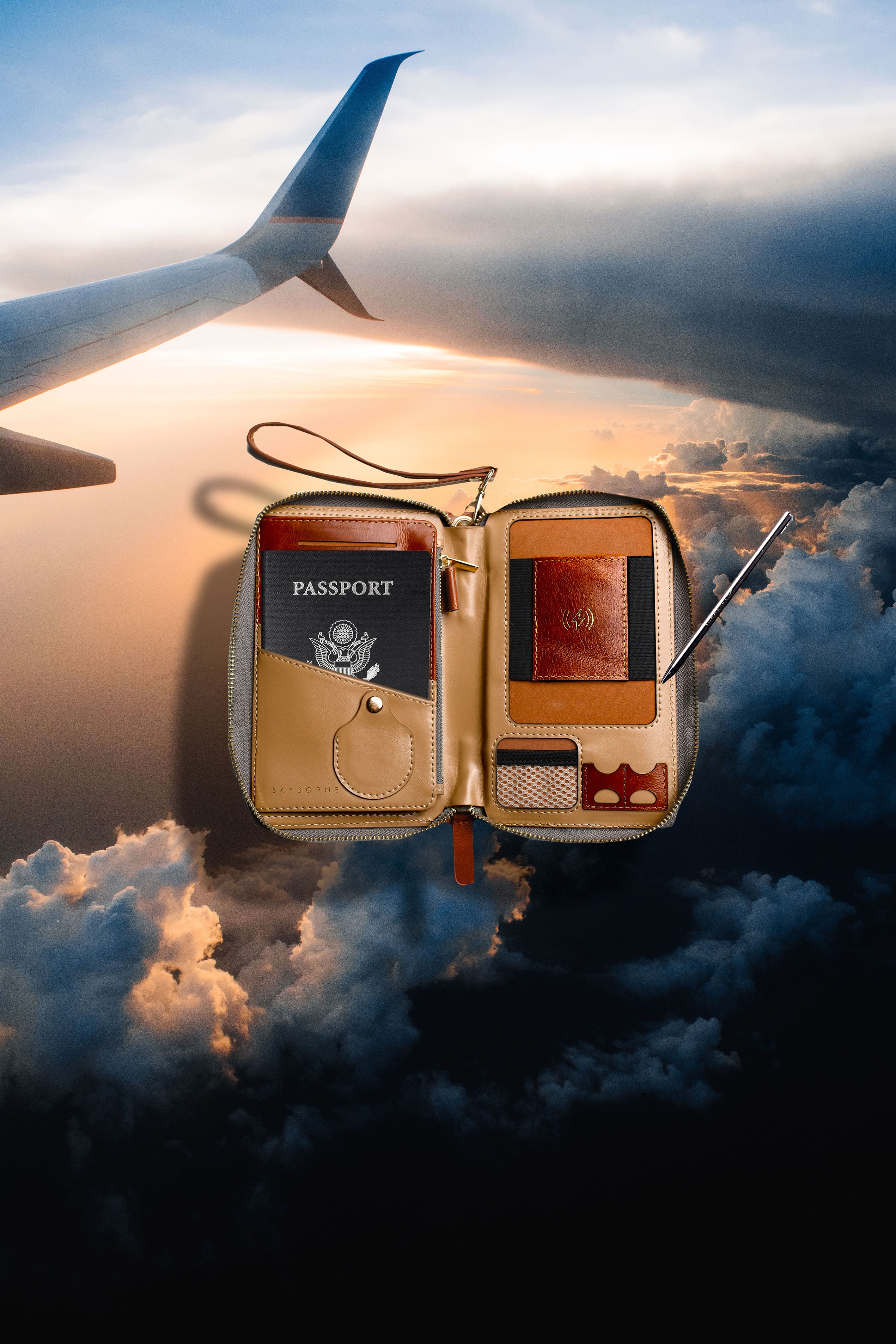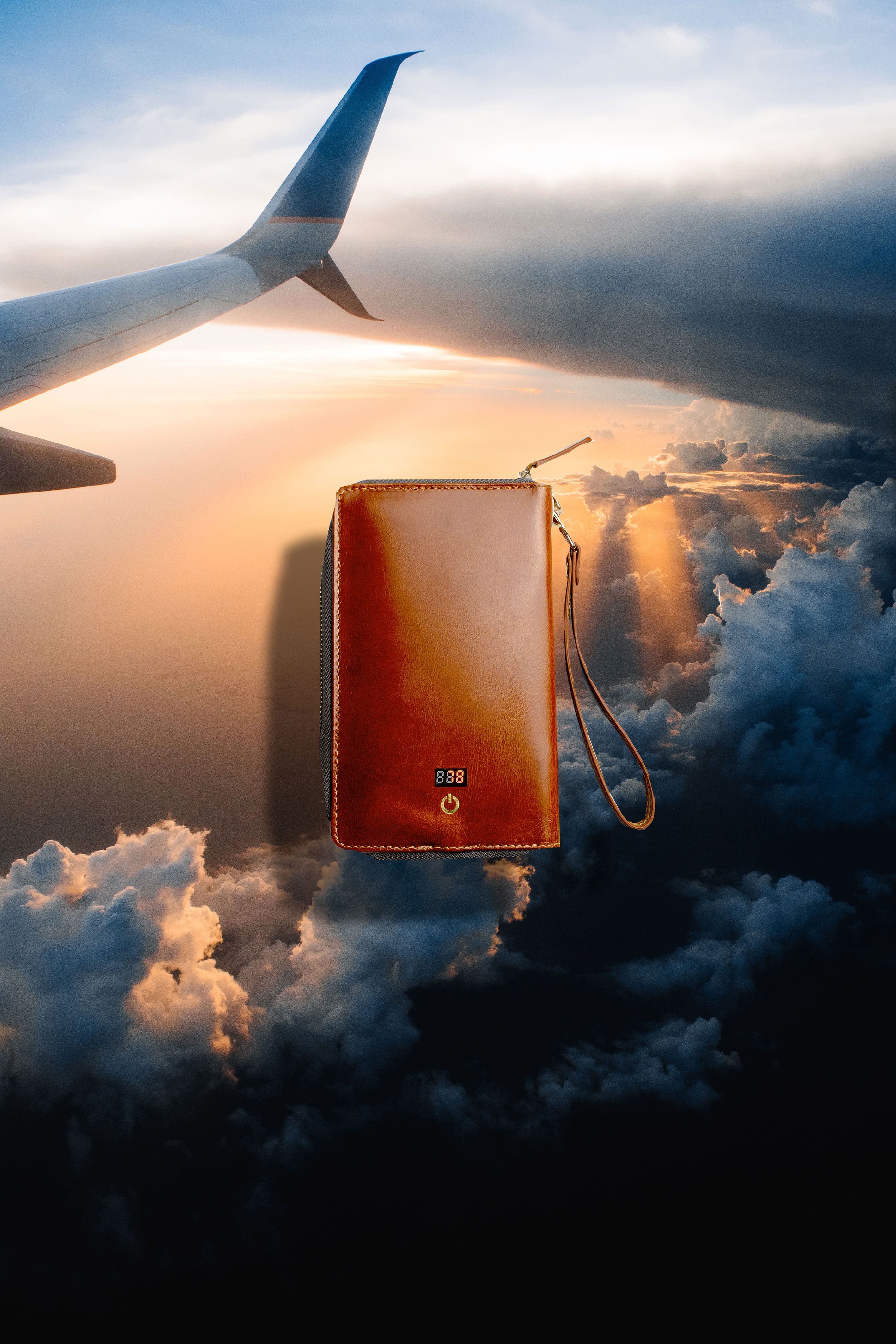 Accessories
Combine these specially designed accessories with the iTravel Folio 4.0 to obtain the perfect ecosystem for a worry-free, and hands free travel.

Choose one, or both of them:
Skytag® MINI

The smallest tracker in the world. , This water-proof GPS tracker fits into the iTravel Folio 4.0 and pairs with your phone via a free app. It tracks your passport/wallet and notifies you if you have left it behind. It can can also be tied to valuables like your luggage, keys, or bags.

Slinger

For those seeking a high-end lifetime sling to keep your journey a hands-free one. Packed with minimalism, and a supercar like design construction which includes a retractable key-clip, metal magnetic buckles, and fits the iTravel Folio 4.0 inside.
Some questions you may have
What comes with the iTravel Folio?

The iTravel Folio 4.0 comes with a stainless steel pen, detachable leather wrist strap, and built-in powerbank.
Is the iTravel Folio 4.0 safe for travel?

The iTravel Folio 4.0 has been certified safe for travel as a carry-on via TSA, and CATSA.
Is this product backed by a warranty?

Here at Skyborne we always ensure 100% satisfaction when investing into our designs. We offer a free 30 day trial, 5 year warranty on any parts of defects, and a lifetime satisfaction warranty.
Where is iTravel Folio manufactured?

We source all leathers directly from Italian leather tannery Conceria Alaska. Our zippers are imported from Japan are of YYK. Our slim power banks are sourced from Korea, and our design and final touches are done in-house here in Markham, Ontario. Canada.
When I will receive my package?

Regular shipping usually takes from 2 to 7 business days. Delivery times and cost may vary according to the shipping option and destination.

We have warehouses in the US, UK & Germany. We do our very best to ship from the nearest warehouse, however, this is not guaranteed and depends on stock availability.
What is your exchange & return policy?

You will have 30 days from the delivery date to request an exchange or a refund. We need the item(s) to be in an unused condition, in their original state and packaging.

Exchanges: We offer free exchanges for all countries within 30 days from the point of delivery.

Returns: If you are not completely satisfied with your order, we offer a compensation within 30 days from the point of delivery, once it is validated. We will provide you with a partially paid postage label for your return during the process, if applicable.
Who is responsible for International Import, Duty, VAT, & Customs Fees?

Customers who purchase orders outside of the European Union, in some cases, customs fees can be charged and it is the buyers responsibility to pay for any Import, Duty, VAT and Customs Fees that may apply for shipping to their country.

We do apologize for any inconvenience this may cause.